Camping Near Mumbai

For teams looking for a wilderness experience. We have our own private 12 acres of unspoit natural beauty, camping near Mumbai, just 2 hours from Mumbai at Igatpuri, a pristine hillstation.

With a lake on one side and forest land on the other, the campsite is nestled in complete silence and rugged natural beauty with an average elevation of 2000 feet.

Overnight Itinerary

~ Your trip leader and shuttle vehicle will meet you in a restaurant off the highway in Igatpuri at 4 pm on the first day of your trip. He will lead you to the campsite until the last point where the vehicles can come in. Depending on the weather, you walk about 400 meters until you reach the lakeside camp.

~ You can dump our sacks in respective tents and meet outside for hot tea and snacks near the lake.

~ You will then participate in a group orientation of the location, activities and important camping tips. Then we leave for a short hike from the campsite into the mountainside. We return to camp late in the evening after a wonderful first day on the trail. We get together to unwind over outdoor barbeque and a local flavored dinner. The night by the lake, dark starry skies, deep silence and cool lake breeze will set the tone for a wonderful camping experience.

~ Next day after breakfast, depending on what you have chosen to do, we head over the hills to climb the highest mountain in the Sahyadri range or abseil from a rocky crag or play a treasure hunt or just hang around the lake doing nothing. Around late morning, we drive back to the city and have lunch enroute.

Accessibility

Igatpuri is about 125 Kms from Mumbai. A small town at about 2000 ft above sea level, on the Mumbai - Nashik route.

Reaching there:

Road: Regular ST buses between Mumbai & Nashik. Driving-NH 3 via Shahpur and Kasra Ghats. Takes 2 hours.

Rail: Tapovan Express to Igatpuri. Or A Local train to Kasara from CST. And bus or taxi from Kasara to Igatpuri. About 2.5 hrs in train and about 30-40 minutes by road from Kasara to Igatpuri.

Activities at campsite :

Raft Building
Abseiling
Canyoning
Hikes
Mud Race
Orienteering
Climb to the highest peak of the Sahayadri Range
Night Walk
Birding
Moonlit Paddling
Open Barbaque
Treasure Hunt
Whitewater River Running
Rock Climbing
More about Igatpuri (Camping Near Mumbai)
Camping Near Mumbai - Igatpuri is a town and a Hill Station municipal council in Nashik District in the Indian state of Maharashtra. Igatpuri railway station lies in Nashik District between Mumbai and Nashik Road on the Central Railway. Igatpuri is known for Vipassana International Academy, where ancient technique of meditation is taught called Vipassana. Trains on this route usually change locomotives on this stop and also change the guards and drivers. The place is one of the best places to visit in Maharashtra in monsoon. It is a hill station on busy Mumbai-Agra NH-3 only 45 km from Nasik and 125 km from Mumbai.
Igatpuri is a major railway station with all trains stopping for 20 minutes as there is a change of locomotive engine owing to the electric current (AC/DC) running the engine. There is a major presence of the Indian Railways within this small town.
Igatpuri (Camping Near Mumbai)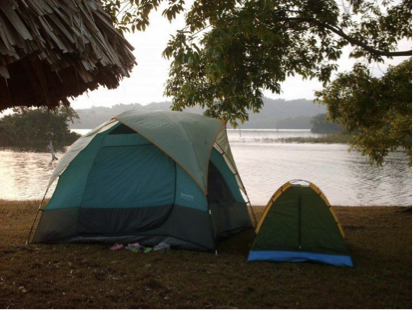 This is the station from where 25 KV AC traction on OHE begins for CR trains starting from Mumbai CST.
The station is famous for its scenic surroundings, wada pao and idlis sold by vendors to commuters traveling in the train. The exit of Igatpuri railway station signals the proximity of Mumbai on down route.
Igatpuri is surrounded by the highest peaks in Sahyaadri that is Western Ghats, most of them are forts built in Satavahana dynasty. It's heavenly for trekkers and hikers, Most Indian (Hindi) movie outdoor scenes specially songs are shot in Igatpuri region.
Igatpuri is a place of significance in terms of Vipassana meditation and Camping Near Mumbai. The International Centre for Vipassana meditation called Dhammagiri, supposedly the largest Vipassana Center, is located here. This region consists of those mountains which are accessed by trains going from Mumbai CST to Kasara and Igatpuri. Local trains only go up to Kasara, and don't climb the Thal Ghat from Kasara to Igatpuri. Hence to go to Igatpuri, one has to either take a long distance train or reach Kasara by a suburban train and then take a bus uphill.
Nearby Attractions (Camping Near Mumbai)
Bhatsa River Valley
- The Bhatsa River valley is situated at the end of the Thal Ghat, just before entering Igatpuri from Mumbai. The valley lies in the basin of the majestic Bhatsa River. The valley is a picturesque spot with lush vegetation. And majestic rocks formed by the river that runs through it.


Arthur Lake
- A few km from Igatpuri, lies a huge and placid Arthur Lake, set like a huge jewel amidst the dense greenery. The lake is formed by the waters of the Pravara River in the Bhandardara region.


Kalsubai Peak
- About 35 km from Igatpuri is the highest peak in the sahyadri ranges.


Amruteshwar Temple
- Built in 11th century AD, it is dedicated to Lord Shiva. Constructed in a distinct Hemadpanti style, the temple is surrounded by lush green fields and Mount Kalsubai the highest mountain in Maharashtra. From here a further excursion leads to the Ratangad Fort. One can access this temple by road or an 8 km boat ride on Arthur Lake.


Dhamma Giri Meditation Centre
- Founded by S.N.Goenka, Dhammagiri is a meditation centre offers courses in Vipasana (insight meditation) a technique taught by the Buddha in India, 2,500 years ago. The large Golden Pagoda, the central theme of Dhammagiri serves as a landmark for Igatpuri. The centre attracts a lots of people from various parts of India as well as abroad. More on Dhammagiri , visit at www.giri.dhamma.org


Ghatandevi Temple
- Just ahead of Igatpuri, after crossing the camel Valley, comes across a small road, which leads to the Ghatandevi temple. According to the locals belief, Ghatandevi is the Protector of Ghats. The mountains of Durrar Utvad, Trimak and Harihar forms a spectacular backdrop. Behind the temple lies the Tringalwadi Fort.


Tringalwadi Fort
- It is situated at an altitude of 3,000 feet above the sea level. The fort offers picturesque scenery of the whole locality, especially Kulang and Kalsubai mountain ranges. The fort attracts trekkers also. A temple dedicated to lord Hanuman is nearby. An architectural marvel, the fort can be accessed through a narrow pathway, down to the Tringalwadi Lake. Just a few km away from Tringalwadi Lake is Talegaon Lake formed by the small Talegaon Dam.


Camel Valley
- A few metres away from Bhatsa river Valley, on the right is the camel valley. On the other side of the valley is a waterfall formed by the rain waters. And one have to walk over and look down to find a slop that falls over 1, 000 ft. The waterfall is the chief attraction of this place.


The Five Waterfalls
- A little further from Ghatandevi, the rough road leading to the railway line begins. Across the railway line, while climbing down, falling one below the other, are five waterfalls that form which are main attraction for tourists in Igatpuri.


This page contains information about: lakeside camping, lakeside camping in mumbai, lakeside camping in navi mumbai