We believe the heat of the kitchen fire forges better relationships. Team building activities that involve cooking can be extremely rewarding for your organisation, as employees will have to work together in order to compete for the best cooking team.
We know that cooking in the outdoors puts people in a situation they may have seen but never experienced. A place where everyone has a vital role to play and where there's nowhere to hide - with pressure that's both daunting and exhilarating. The team will discover their true performance potential. It's awesome fun too!
Its always uneasy to cook in the outdoors with limited access to cooking equipment, graded heat, untrained hands, limited ingredient and time.
The teams prepare series of dishes which would be judged in order to declare a winning team. Needless to say, its teamwork at its best.
The Planning Process
The first task is for the group to choose the menu from the options provided. The group decides by consensus. Individual tastes and habits are balanced against the need to find common ground (The Menu) and to take the risk of the unknown. The menus offered are based on the degree of cooking experience of the group, to provide a challenging learning experience, to take the group into new territory, to stretch whatever culinary skills they may have; and to teach the fundamental truth: the team won't get through this unless it works together.
Trust and confidence in the ability of the team to accomplish the task is essential. After all, you or your colleagues will eat what your team has prepared. Concerns, uncertainties, and any questions will be shared openly and dealt with throughout the course.
The Goal
The goal is for the group to become a team, to discover new facets and ways of working together; to establish a team in an environment where everyone starts out at zero, as equals, i.e., no one knows how to do this.
The end result is a sumptuous meal for everyone's enjoyment, the fulfillment of a new and challenging task completed, and a chance to evaluate the meal, the process and the learning that has taken place. At its best, this experience can affect and improve the daily work of the team. It depends on the group to take all that it can from this learning environment.
REASONS TO BOOK THIS CUISINE CHALLENGE WORKSHOP
Treat your teams to a creative workshop with a difference with our exclusive Cuisine Challenge Workshop, perfect for your corporate event.
An original team building activity for your company away day or personalized team bonding session.
Take your team building event to the next level with bespoke themed Cusine Challenge Workshop, the ideal customised team bonding workshop for a memorable experience.
Strawberry Outbound Workshops prove anything is possible, providing creative, innovative solutions to exceed your team building needs.
We provide the expertise to deliver mind blowing results for your team offsites !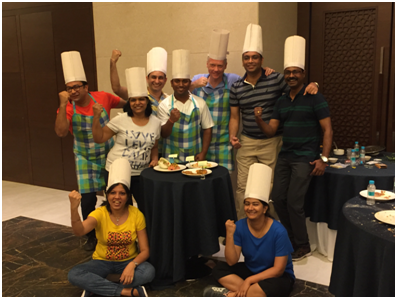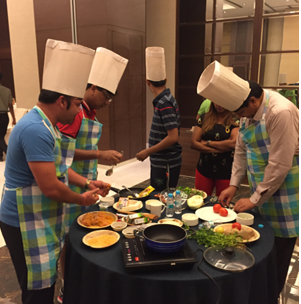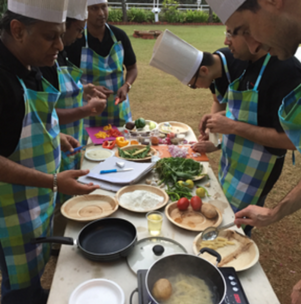 This page contains information about: Cuisine Challenge, Cuisine Challenge in Mumbai, Cuisine Challenge in