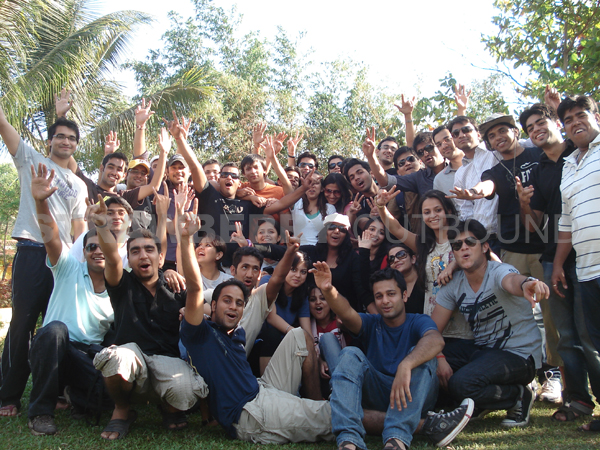 Our specially tailored programmes incorporate Indoor and Outdoor activities to meet the training objectives of today's changing world - Outbound Team Building Mumbai.

Incorporating Adventure Learning in Corporate Training Programmes

How does the Outdoors help the harried executive?

Ice breakers, Conference starters, Problem solving exercises, Initiative games, Outdoor adventures including Abseiling, High and Low Ropes Courses, Search and Rescue Scenarios, Sailing and Music are used as effective Team Building Tools. All activities are conducted with qualified facilitators and follow policies that have minimum impact on the environment. Our equipment is mobile and we go anywhere in India.

For long-term tangible change in the way people do things, training programmes need to engage intellect and emotion. At Strawberry Outbound, we use the outdoors as a vehicle for learning, where the learning is real, with real successes and failures, and only genuine input will achieve lasting results.

Outbound Team Building Mumbai

We are all capable of much more than we realize, if we only knew how to fulfill our potential. Understanding and true learning come from the real world - the great advantage of the outdoors is that it forces you to use your communicative and reasoning skills and to confront problems head-on. Strawberry Outbound is a provider of experiential training in India, Outbound Team Building Mumbai, specializing in designing outdoor training programmes for:

Professional Development :

These tailored programmes, designed to bring out the best in each member of the organization, include:
Outbound Team Building Mumbai
Management and Leadership Development
Organizational Change
Motivation
Empowering the Individual
Personal Development :
Throughout the year, we operate Open Courses, designed to help you realize your potential. The Programmes include:
Empowerment
Confidence
Extending Horizons (your comfort zone)
Assertiveness
Interpersonal Skills
Managing Stress
Multi Activity Programmes:
If what you are looking for is Action. we at Strawberry Outbound have loads of it to offer! Our all-inclusive multi-activity breaks involve a host of action pursuits.

Land-Based Activities:
Abseiling
Archery
Birding
Caving
Cycling
Camel Safaris
Ice Climbing
Jeep Safaris
Mountain Biking
Para Gliding
Rock Climbing
Snow Skiing
Sky Diving
Trekking
Wildlife
Walking
Water-Based Activities :
Canoeing and Kayaking
Cruises
Deep-Sea Fishing
Power Boating
River Rafting
Sailing
Surfing
Scuba Diving and Snorkeling
Water Skiing
Windsurfing
White Water Rafting
The Choice is yours!

When you undertake a training programme in association with Strawberry Outbound. You have a whole lot of options to choose from, and you can even customize your programme according to your unique requirements!. You could choose to include one or a combination of a few activities mentioned above as part of your Adventure Learning, Team Building, Leadership Programmes, Professional Development or Personal Development programmes.

In the organization of the programme, you also have the following options to choose from:
Complete management of the entire programme, including the training modules, resource persons, venues, boarding and lodging, food and travel arrangements.



Mutual management of the programme, where you could arrange for the resource persons for the management modules. And Strawberry Outbound takes care of the Adventure Learning and corresponding activities, the experts for the same along with the venue, boarding and lodging, food and travel arrangements.



Strawberry Outbound takes care of Programme Details such as the venue, boarding and lodging, food and travel arrangements only. While you take care of the rest of the programme.
The four levels of application for outdoor training are set out below :

First level
Traditional classroom-based training activities.
Imparts general knowledge and skills required to perform specific duties and tasks.
Second level
Lower-risk outdoor training activities, incorporating group problem-solving challenges.
Targets the development of improved organizational communication. Used to improve cooperation, improve teamwork and build confidence in specific training groups.
Third level
Lower-risk outdoor training activities, incorporating individual challenges requiring team support.
Similar to the second level but far more emphasis on activities requiring team support and developing trust.
Fourth level
Higher-risk outdoor training activities and wilderness programmes.
This page contains information about: Outbound team building, Outbound team building in mumbai, Outbound team building in navi mumbai